The History of the Ring
This page tries to follow the history of the Watership Down Webring, from it's first incarnation, up until present day. Bear in mind, I wasn't around on the net when most of this was going on. This is just what I have managed to reconstruct, mainly with the invaluable help of archive.org and the Watership Down Email discussion group. If anyone knows anything which should be corrected, especially if you're one of the old Ringmasters, please let me know.
---
In the Beginning...
The first appearance of the Watership Down webring was way back on the 9th July 1998. It was started by an avid Watership Fan going under the name of Jerint Notorious. Back in those days, Webring.org was still a completely independant organisation, where huge control was given to the Ringmaster's over how everything in the ring should look. As such, the Webring was given it's first site at
www.geocities.com/EnchantedForest/Dell/2307/webring.htm
This became the hub of the ring, where information on joining and the navigation code for the ring were all to be found.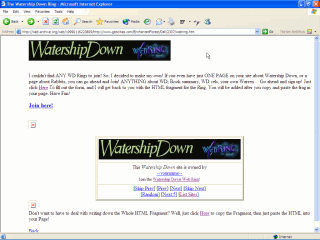 ---
After that....
The ring itself then moved homepages a few times. First to geocities.com/silvanst, in September 1999, where it was given a major revamp with a new messageboard and a place to monitor site traffic. It didn't stay long, before moving again, and finally settling upon it's home at geocities.com/wherryweb/ringrah in late 1999. It's this last address that most of the older members should be familiar with.
A few months after the move there, a whole new redesign of the site was brought in. I assume this is the design shown below, although sadly this page no longer exists, so I'm stuck with only the archive.org version with most of the images missing.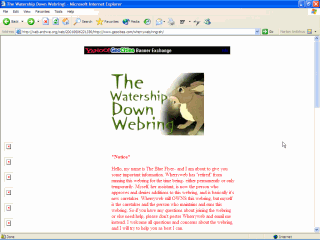 ---
The Last Days
After that, what happens becomes a bit of a mystery. Despite the loving attention Jerint gave to the ring, she suddenly seems to disappear sometime in 2000, and from what I can see, hasn't been seen since. The very last thing to happen to the ring was that it was handed over to some new ringmaster called 'The Blue Flyer'. Further research (Hey, I had alot of time on my hands) uncovered this is a character name of the excellent artist Kylen at Silabub.com (ID #1 on the ring). Here is a copy of the final message I could find about this...
Hello, my name is The Blue Flyer- and I am about to give you some important information. Wherryweb has "retired" from running this webring for the time being- either permanently or only temporarily. Myself, her assistant, is now the person who approves and denies additions to this webring, and is basically it's new caretaker. Wherryweb still OWNS this webring, but myself is the caretaker and the person who maintains and runs this webring. So if you have any questions about joining the webring or else need help, please don't pester Wherryweb and email me instead. I welcome all questions and concerns about the webring, and I will try to help you as best I can.
After the disappearance of Jerint, very little happened with the ring. The Blue Flyer, although I'm sure she did a good job, could never follow in her footsteps. I dont know how the ring fared in the dark days of the Yahoo/Webring merger. What I know for certain is that when Webring de-merged from Yahoo in September 2001, the ring was never migrated. TBF apparently never took the ring to the new seperate Webring.com, so it became run by 'Stuck-Migration'. Jerint's sites for the webring on Geocities also gradually disappeared, due to Geocities cancelling the accounts for a lack of updates.
---
Nearly present day, and where I come in
Throughout the rest of 2001, and most of 2002, the webring remained under the management of 'Stuck-Migration'. That basically is a system default, meaning (AFAIK) all approving and denying of sites was done by a computer, with no actual person involved. Although I dont know for certain, I suspect during that time, you could have submitted a site about Frozen Chickens and, as long as you had the navigation code, it would be approved. It was during this time that my Thank U Stars site joined. (although, its not about Frozen Chickens!!).
Then in October 2002, Webring finally started a new initiative. All of the system-run rings would be opened up for adoption. A link would be placed on abandoned rings, which anyone with an interest could put their name in for. After a few weeks, each of the applicants would be given a score, decided by their existing experience of ring-management. The person with the highest score would take over running. I dont know how many people besides me put their names forward. I may have been the only one! All I do know is that on the 5th November 2002, I officially recieved notification that I had been chosen to take over the ring.
---
So what now...
Being chosen as Ringmaster was a great honour so, not surprisingly, Im going to be putting my heart and soul into running the ring. I have a long, long way to go if I ever want to stand a chance of bringing the ring back to life, however I am trying. Since taking over, I've altered the navigation code, fixed sites and invited new members. Most important of all, I've started up this site, with the aim of creating a central place for the ring. I am sticking around as ringmaster for a while now, in an attempt to bring back some stability. There's still things to be done, such as trying to get everyone to update the old Wherryweb code, but I'm getting there.
Here's to the The Watership Down Webring. May she continue into the next 4 years.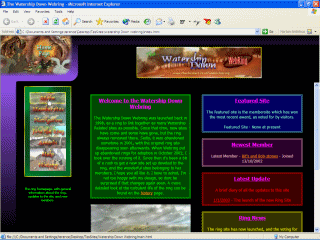 ---
Sources

http://www.archive.org - Without which, I would never have been able to see Jerint's work
http://groups.yahoo.com/group/watershipdown - The archive on that proved invaluable for finding out the early days of the ring
With thanks to Jerint Notorious and The Blue Flyer (AKA Silabub). If ever you want to email me, and let me know just what happened to the ring, I'd love to hear from you. Your work sparked off something for years to come.